FREESUB Sublimation Heat Press 3D Phone Cases
Description du produit
FREESUB Sublimation Heat Press 3D Phone Cases
Caractéristiques
Sublimation Blank Cell Phone Case
Vente chaude
Petite qualité supérieure MOQ
Directly Factory Supply
Matériau résistant à la chaleur
Description du produit
what's this?
Product name:
Directly Factory Small MOQ High Quality Hot Selling Sublimation Blank Cell Phone Case
Instruction and Advantage:

Sublimation cell phone case is not the same as other phone
case, the material is special for heat ressitant, and with sublimation
coating in it, then you can print whatever picture you like on it during
heating.why call it sublimation phone cover, because the photos or
designs must be printed through heating and press.
the advantage of sublimation phone case is that you can print
personal designs on it, it can be different from others, it's unique.

what is it used for?
Usage:

good for personal gifts,
promotional gifts,
souvenirs,
family gifts,
also good protector for your mobile phone cases

Product details:
Item no:
IP6
For phone:
case for Iphpne6 mobile phone
Color:
white blank
Size:
140*70*9 mm
Material:
PET
QTY/CTN:
500PCS
Packing size:
46*36*23cm
GW:
9.4kg
How it works?
Printing process:

1. Get image from cemara or cell phone
2.print out by an inkjet printer with sublimation ink and sublimation paper.
3. stick printed picture on the substrate like phone case,and put on phone case mould.
4. set temperature and time on the machine and preheat
5. after preheating, put substrate in and start time countdown.
6. after some mins, a beautiful DIY phone cover comes out.

Why Sunmeta?
Sunmeta Sublimation:

1. Original manufacturer, one-stop sublimation supplier
2. 7 years sublimation design and production history
3. Factory is located in Yiwu--- most famouse international commodity city, zhejiang province, very connenient for export, close to
Ningbo and Shanghai Port.

How to order with us?
Shipping ways?
Shipping ways:
By Sea or Courier by FedEx, UPS, DHL, TNT, EMS, etc.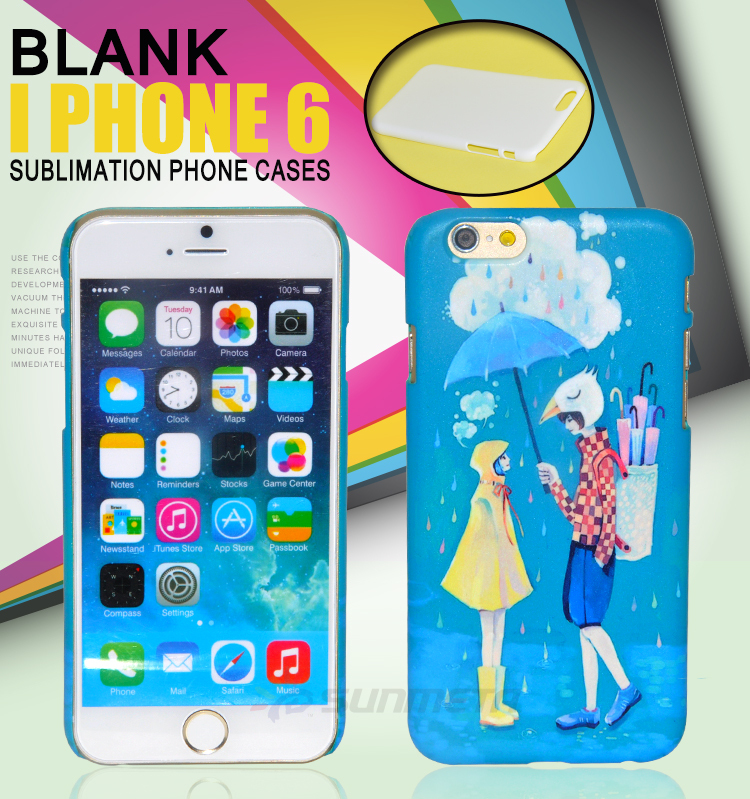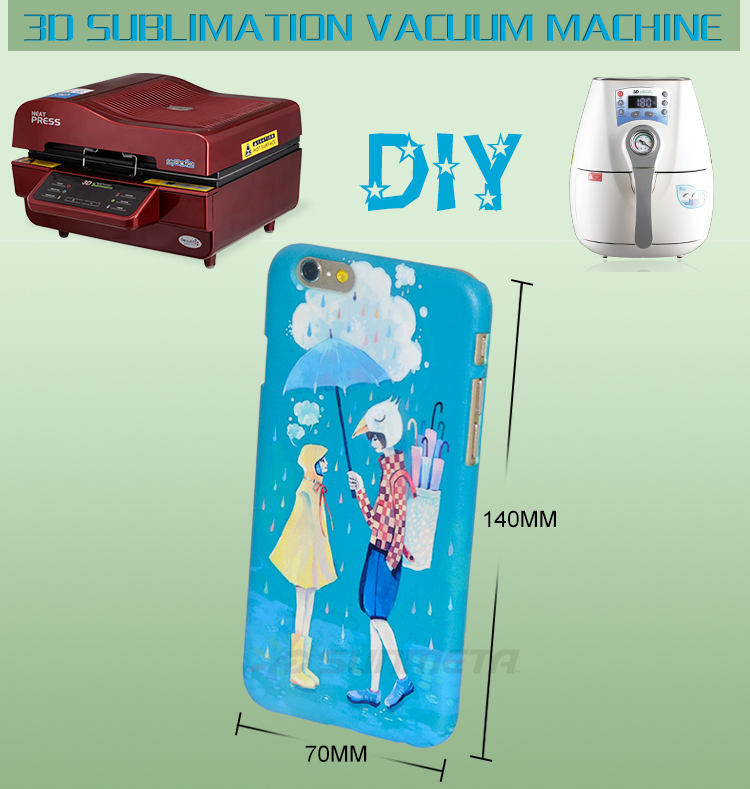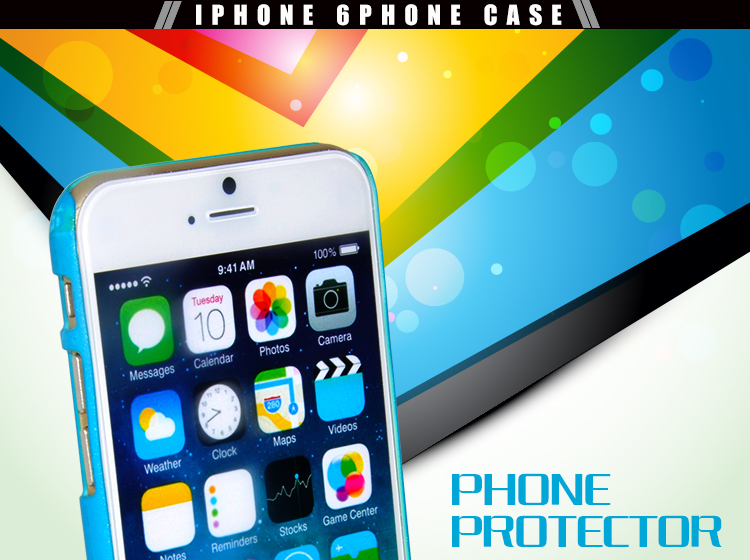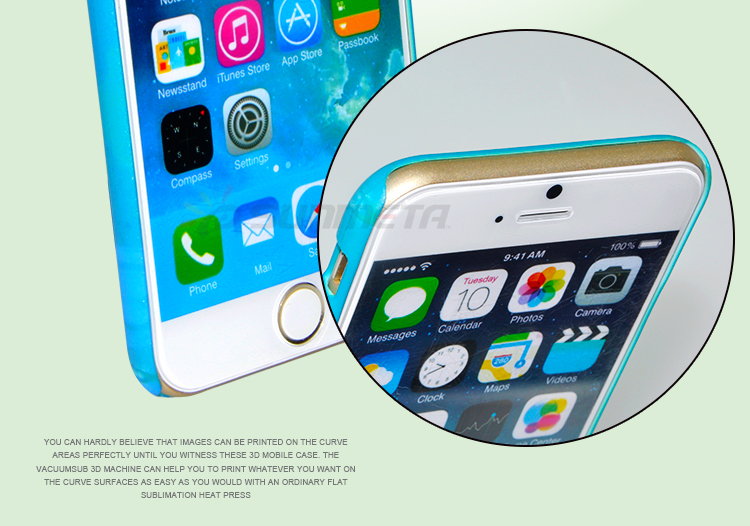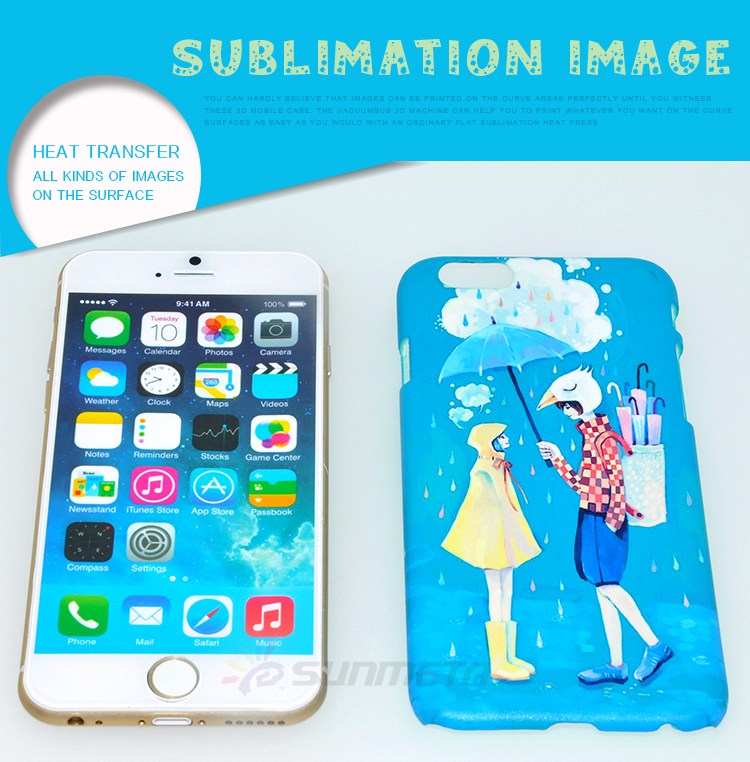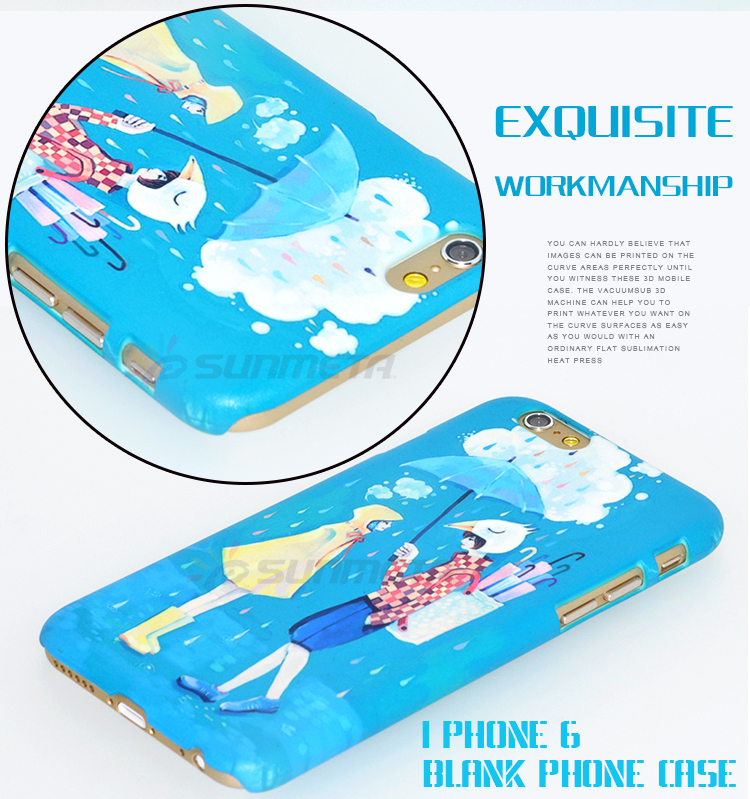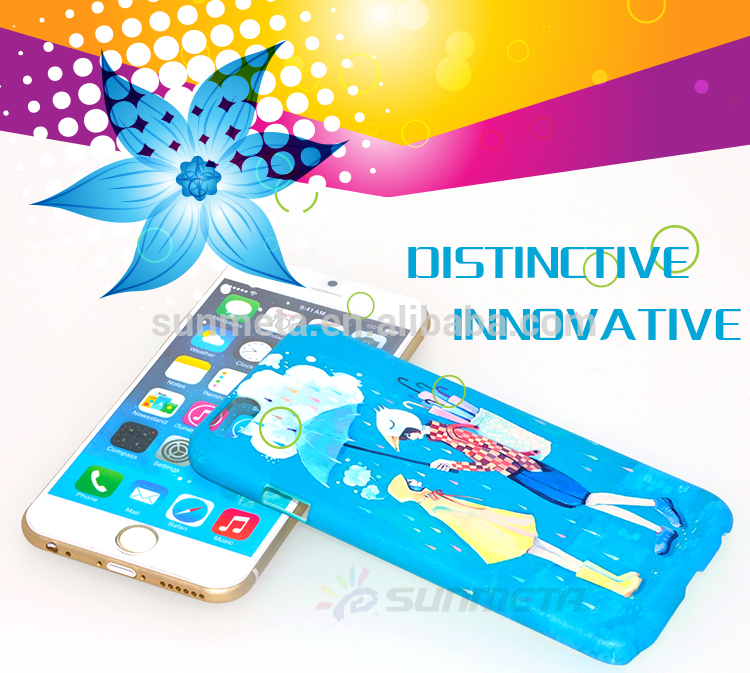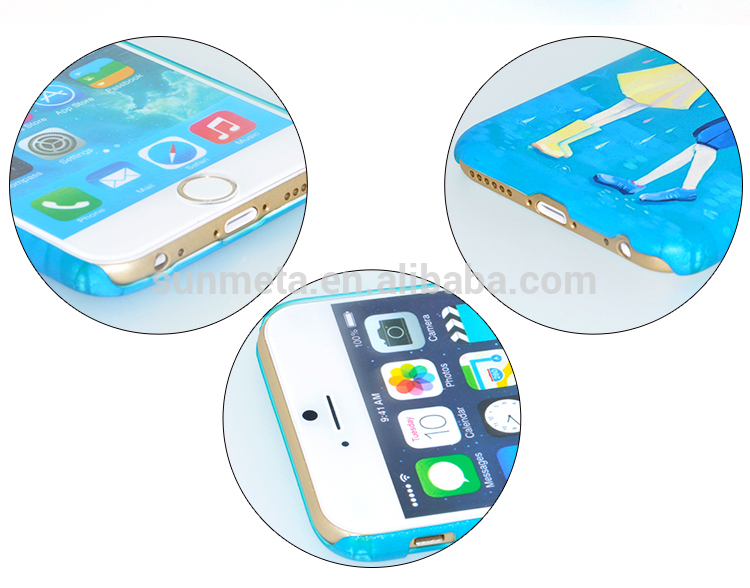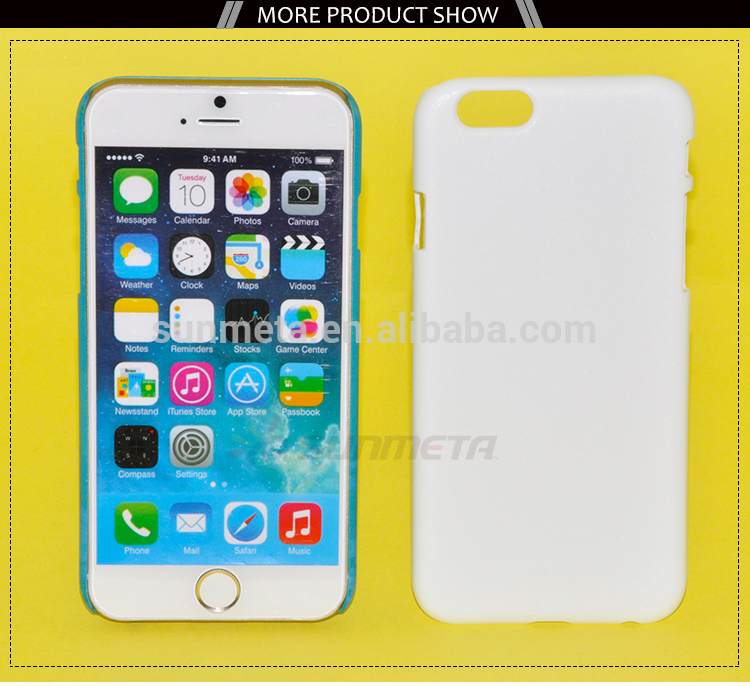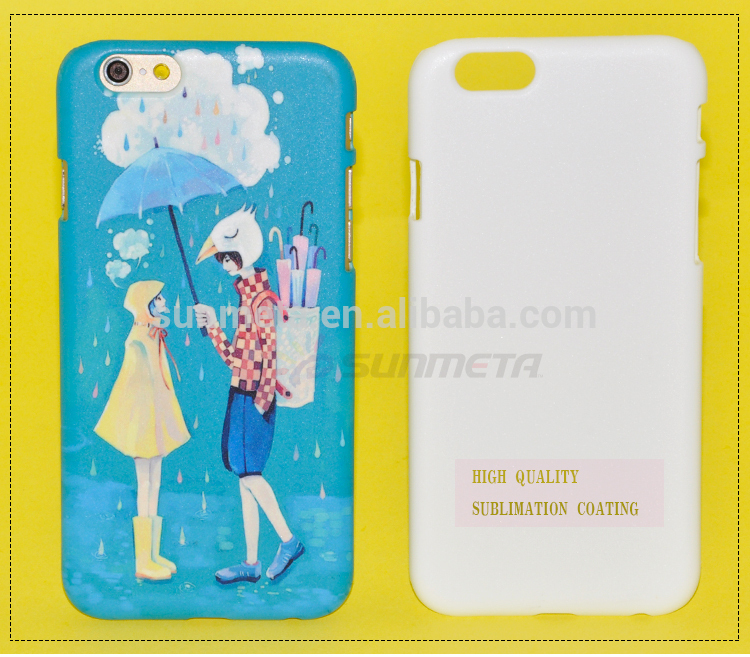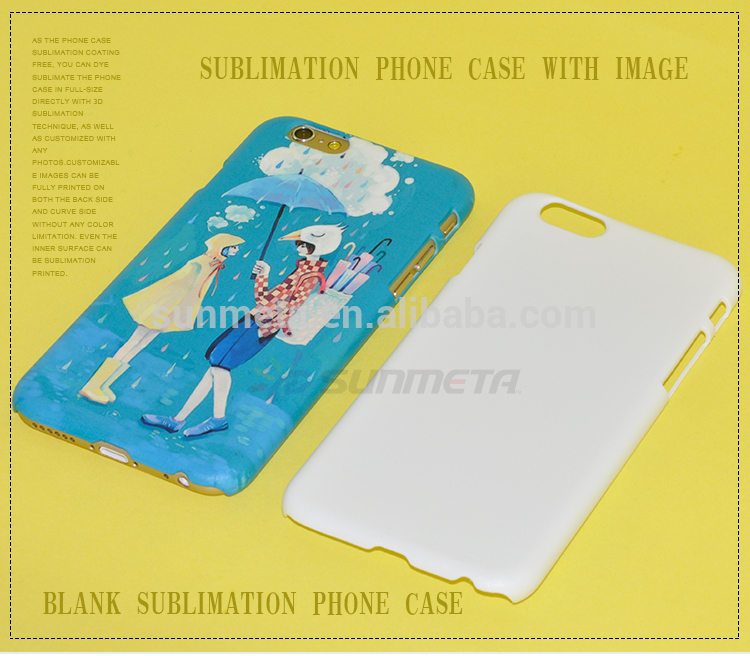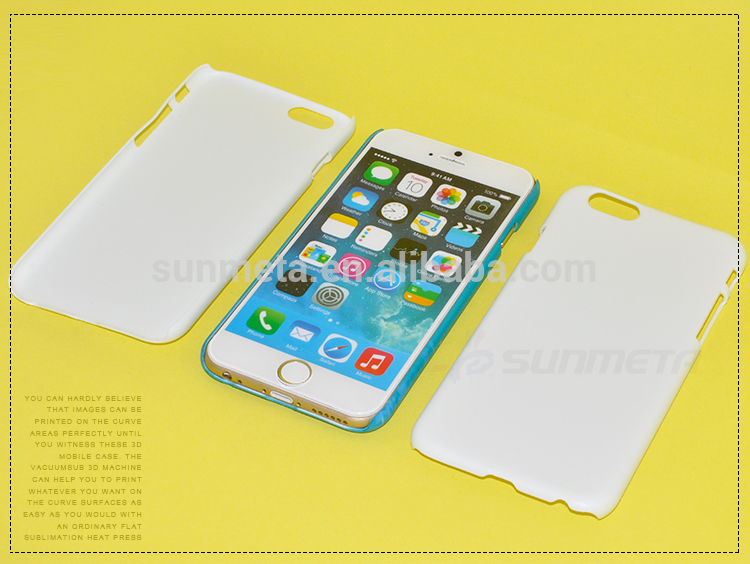 Produits connexes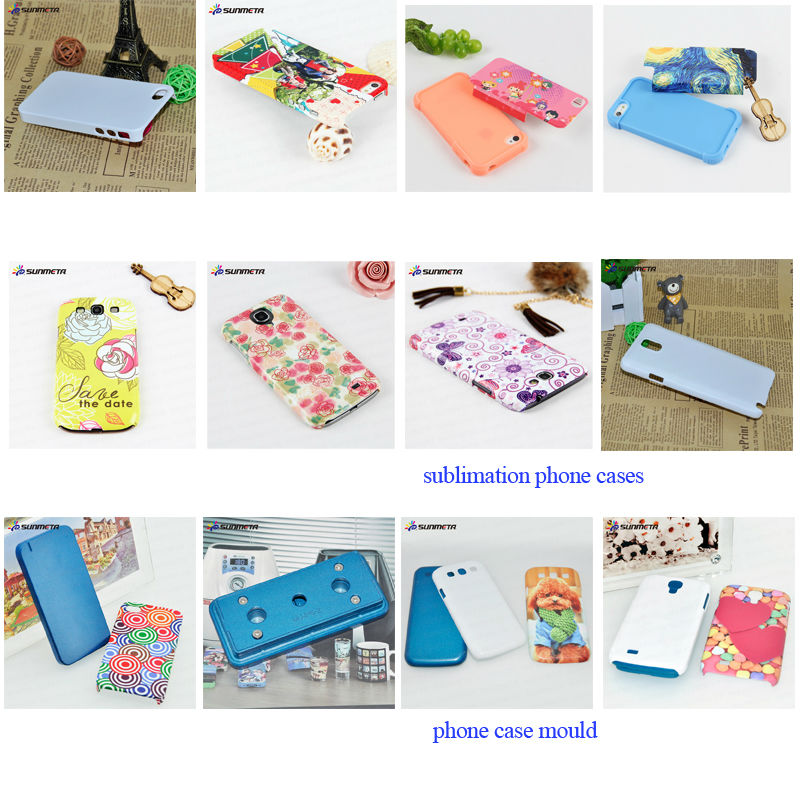 Recommander la machine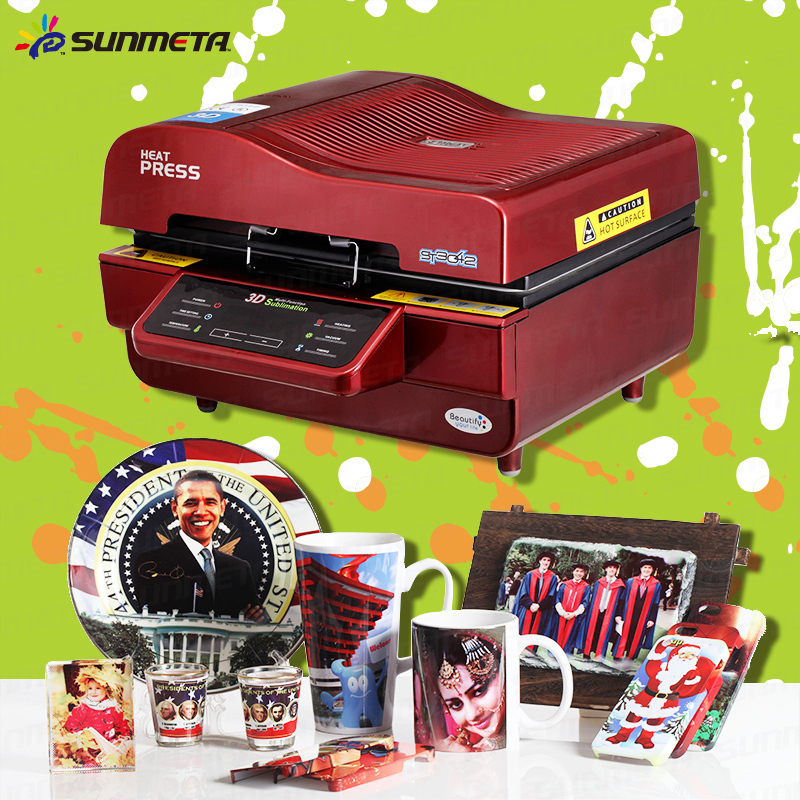 Informations sur la société
Sunmeta Digital Graphic Co., Ltd est situé dans la célèbre ville de commodité --- YIWU, province du Zhejiang, en Chine. En tant que fournisseur unique, nous faisons toujours de notre mieux pour fournir des prix compétitifs, la livraison la plus rapide et le meilleur service.
Capacité de production journalière par exemple:
Machine de pressurisation sous vide à sublimation 3D: 200pcs
Tasse en céramique sublimation: 12000-18000pcs.
Ardoise rock sublimation: 5000-6000pcs
Cadre photo en verre sublimation: 4000pcs
Cadre de photo en cristal sublimation: 2000pcs
.........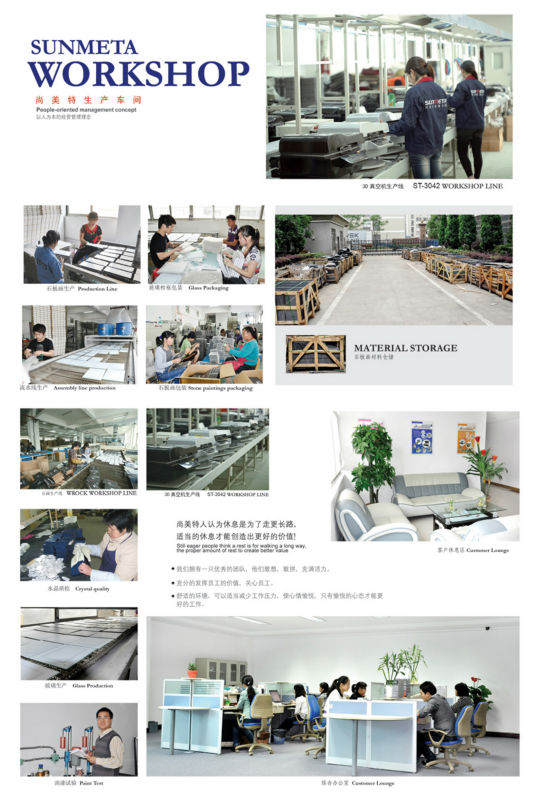 Groupes de Produits : Accessoires de téléphone > Etui pour téléphone 3D